David Ellefson

Ellefson live with Megadeth in 2010.

Background information
Also known as
Junior
Genre(s)
Heavy metal, thrash metal, hard rock, speed metal
Years active
1983 - present
Associated
acts
Megadeth, Soulfly, Avian, Temple of Brutality, F5, Killing Machine, Ministry, Hail
Website
Dave Ellefson's Web Site
David Warren "Dave" Ellefson
(born November 12, 1964 in Jackson, Minnesota) is a bassist and founding member of the American heavy metal band
Megadeth
. He currently resides in Scottsdale, Arizona. He also has various side projects which include Temple of Brutality,
F5
, and
Killing Machine
.
[1]
Biography
Edit
Early life Edit
Ellefson started to play bass guitar because of its presence in heavy rock music. He then became an accomplished rhythm guitarist and honed his songwriting skills while leading several of his own bands through the club scene of North America's Midwest region.
The Megadeth years (1983-2002, 2010-Present)Edit
Other than vocalist and primary lyricist Dave Mustaine, Ellefson was the only constant member of Megadeth from the time of their establishment in 1983 to the group's dissolution in 2002 (Mustaine subsequently reformed Megadeth but without Ellefson). To differentiate between the two Daves, Mustaine referred to Ellefson as "Dave Junior", which was often shortened to "Junior". He appeared on every album and tour from 1985's thrash record Killing Is My Business... and Business Is Good! up until 2002's Rude Awakening. Ellefson's original playing style involved using his fingers, however, as Megadeth progressed and the music became more complex, he tended to prefer playing with a pick/plectrum. Ellefson was credited with some Megadeth songs, including "Family Tree" from 1994's Youthanasia (in the 2004 remastered collection of the CD however, the track is credited to Mustaine, Ellefson, Friedman, Menza, but Dave Mustaine credited the Rust in Peace-era line-up with the entire Youthanasia album as a tribute to the band's success at the time of the record's initial release).[2]
On February 8, 2010, Dave Ellefson got a text message from now Megadeth drummer Shawn Drover. Dave Ellefson called Dave Mustaine and the two talked out everything and decided they missed being friends. After the phone call, the news was released that David Ellefson would return to the Megadeth lineup. Ellefson was quoted saying "it felt like I never left" after their first rehearsal together.[3]
Feud with Mustaine Edit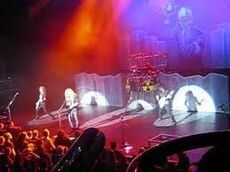 Mustaine resurrected Megadeth in 2004 to record the album The System Has Failed. Ellefson and Mustaine had a severe disagreement over royalties and rights to Megadeth's name and back catalog resulting in Ellefson filing an unsuccessful lawsuit. Though the two once enjoyed a close friendship, considerable animosity developed between Ellefson and Mustaine to the point that on Ellefson's website, Megadeth was not mentioned in his biography, only in the discography.
In a mid-2005 podcast, Ellefson did not mention his past with Megadeth at all, instead concentrating on discussing his current projects. Mustaine felt Ellefson was unfairly using the Megadeth name when advertising for an amplifier for Peavey. On Blabbermouth.net, Mustaine claims to have had dinner with Ellefson at Christmas in 2005 to talk things through; this got them on good terms, as Mustaine has stated that they spoke on the phone numerous times afterward.[4] In 2010 Dave and Dave have agreed to keep any unresolved issues in the past and are working on building and maintaining their friendship again.
Post Megadeth career and return (2003-2010) Edit
Ellefson formed F5 following Megadeth's 2002 disbandment. The band featured Ellefson on bass, Dale Steele on vocals, Steve Conley on lead guitar, John Davis on rhythm guitar and Jimmy DeGrasso on drums. Their first album, "A Drug for all Seasons" was released in 2005. F5 appeared in support for Disturbed in February 2006 and toured the American Mid-West in the summer of 2006. Ellefson also appeared on the new Killing Machine record "Metalmorphosis" in 2006 alongside former Megadeth drummer Jimmy DeGrasso and has also been working with Temple of Brutality. Ellefson is currently a member of the melodic power metal band Avian which features singer Lance King. He commented in an interview with Alternative-Zine.com that "Megadeth was really just a starting point for me, creatively"[5]
Dave currently works for Peavey Electronics Corporation as an artist relations representative.
Ellefson played five tracks for the Soulfly album Prophecy and also played on one track on Dark Ages.
He has recently worked with underground emcee/record producer Necro for his album entitled Death Rap.
Ellefson is also a member of a tribute band called "HAIL!". Ellefson, Jimmy DeGrasso (Mike Portnoy currently drumming for them 2010), Tim "Ripper" Owens and Andreas Kisser formed the band in late 2008[6]. The band, as of April 2009, is touring Europe[7].
Dave participated in the Christmas Rock project Northern Light Orchestra, he performed bass on many of the 17 cuts produced by rock drummer Ken Mary and also at the live show Christmas in April Orpheum Theatre, Phoenix, Arizona.
As of February 8, 2010 Dave Ellefson rejoined Megadeth after 8 years. He states in an interview for Classic Rock that current Megadeth drummer Shawn Drover contacted him via text and told him that "if ever there was a time for you and Dave to talk, now is it."[8]
Christianity
Edit
Ellefson told HM Magazine that he, like Dave Mustaine is a committed Christian. "Well, I was actually brought up in a Christian household, so I have, you know, a pretty broad knowledge of it; and strayed from it for quite a while. And, now that I have children, I actually do go to church, so I've kinda sorta returned to it, you know?"[9]
When asked about how he came to be a Christian, Ellefson came out to be surprisingly similar to Mustaine. "My faith has been with me from birth really as I was baptized in the Lutheran Church when I was an infant and raised in that setting my whole life. My family went to church on Sundays, my dad was on church committees, my mom sang in the church choir, and I was confirmed as a teenager too. In fact my mother's Wurlitzer organ was my first musical experience and how I learned to play." He was also asked that if he was a Christian his whole life, and how he felt about being in Megadeth and doing the things that he did. "I will say that my adult religious beliefs were strengthened once I got cleaned up off dope and booze back in 1990 by way of 12 step programs. That really brought me back to putting God at the center of my life again and as a result I experienced the best years of my career, too. That was paramount for me because being 25 years old, and playing in a metal band, God was certainly not considered "cool" and is still not something most metal fans want to have their hero's proclaim in public! However, the reality is that even in my days of drug use, for me from age 15 to 25, my Christian upbringing always haunted me a bit because I knew I was doing the wrong thing living that lifestyle. Fortunately, getting cleaned up seemed to be in the cards for me so I'm glad I was able to get through it because so many people don't seem to be able to make it through that. At the end of the day there is no escaping God's will… He will always win!" One of the things that helped him to come back to Christ was that he was having children with his wife, and he started to remember how he was brought up, and the appreciation he had for it. He wanted his kids to be brought up in the church, and after several incidents in the studio, that he thought was very strange, he felt God was calling him to come back to the church. After calling his wife and telling him that, she said, "well, I'm glad this is all happening, because the worship leader was asking if you could come sit in this Sunday because their normal bass player isn't going to be able to make it this week. That's when he decided, "Okay God, I get it". And then started his entrance into the Christian Music Scene.[10]
In an article titled CODA - Ready for a MEGA Life, Dave indicated that in the fall of 2007 he began the new MEGA Life Ministiries worship service in Scottsdale, AZ. "Oddly, the service has become one of my most rewarding and musically invigorating gigs I've ever had…a gig that literally landed in my lap and not something I had to chase down either. Not only are the parishioners respectful (no bar fights, spilled drinks and foul mouthed hecklers in the crowd like many secular gigs full of rational people) but it's a musical event my whole family participates in. Plus, I'd finally had been given the venue to put into practical application the very words I'd been trying to live by for many years which is 'Play music for God, not us'." [11]
Worshiping Satan, it's like, 'Is that the best you can do?' He's kind of a small fry guy. You're kind of limiting your resources a little bit there, if you go down that road.[12]
Equipment
Edit
Template:Cleanup-section During Megadeth's early days, he first used BC Rich Basses primarily the Mockingbird series in black for the albums Peace Sells and Killing Is My Business. Ellefson secondarily used Jackson Concert 4 and 5-string basses in a custom blue finish, the colour inspiration was his telephone answering machine. In 1993, looking for a deeper sound which would "sit" under the bass drums in the mix, Dave tried EMG pick ups and pre-amps in the Jackson basses- pleased with the results he tried basses from almost every manufacturer while in pre-production for the "Youthanasia" album in early 1994.
A clerk at The Bass Shop in Tempe loaned his Modulus Bass for trial, the longer scale, carbon-graphite neck and electronics offered all that was missing. That started an association with Modulus- which later faltered as Modulus changed hands.
He chose to play Modulus Quantum and Flea 5-strings and sometimes two Fender Precision Basses, a rosewood neck '78 with a DiMarzio split-coil humbucking pickup and a maple neck '77 These basses were used for a "grinding" sound . David switched to the American Deluxe Series P-Basses around 2000/01. His current bass arsenal includes a pair of maple-neck American Deluxe Precisions in 4 and 5-string versions, his '78 and '76 P-Basses, an Epiphone El Capitan 5-string acoustic bass, an Ovation 4-string, a Hamer Chaparral 12-string bass and an assortment of Peavey and Modulus 5-string basses. He has also recently been seen using a transparent red B.C. Rich Mockingbird and a black Jackson Concert bass on the Rust In Peace Anniversary Tour. In addition to his bass gear, Ellefson's guitar rig included an Ibanez Destroyer, a pair of Peaveys as well as Alvarez and Briarwood acoustics.
Up to 1993 Dave used Hartke amps and Cabs, switching to Ampeg SVT 4 amps and SVT cabs. In the studio, guitar amps were sometimes used for alternate tracks- notably an Peavey 5150 on Paranoid (1993).
Dave used Peavey amps/cabinets and Mackie power amps for amplification. His effects setup includes DigiTech Genesis 3 and BP-2000 pedals, Korg and Peterson tuners, BBE and Tech 21 Sansamp DIs, Digidesign Pro Tools MBox LE and Peavey Pro Comm U1002 Wireless systems. Ellefson uses D'Addario Nickel Electric guitar strings for his guitars, Prism and Pro Steel Medium Gauge bass strings (45-130) for his basses, Jim Dunlop Medium Tortex picks and Planet Waves cables.
After rejoining Megadeth in early 2010, Ellefson started using his old Jackson bass and Hartke amps again[13]. He used an LH1000 with two HX810s on the Rust In Peace 20th Anniversary Tour[14]. Recently David Ellefson's new Signature Series Powerwound Nickel Bass Strings from SIT strings were released.
Discography
Edit
Cite error: <ref> tags exist, but no <references/> tag was found